Top jobs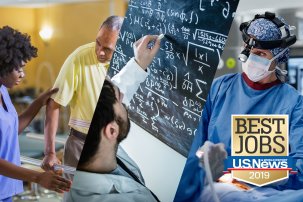 Health care jobs require years of higher education. But workers willing and able to make that investment see it pay dividends in the form of high salaries and ample opportunities. Plus, experts predict there will be great demand for nurses, physicians and other medical practitioners in the years to come.
Those factors make health care jobs some of the best available in the U.S., according to the Best Jobs of 2019 ranking. Other industries represented at the top of the list include business and technology, the category that holds this year's top job, software developer.
Data for this ranking comes from the Bureau of Labor Statistics, an arm of the federal Department of Labor. The highest median salary the agency records is $208,000, so some of the following professions may offer median annual incomes higher than that amount. Click here for more information about the methodology behind the list.
Check out 25 of the best careers and learn about each profession.